As a woman of Sičangu Lakota and European American ancestry, I was raised within Native and urban American communities. My work reflects these cross-cultural experiences through the combination of modern abstract painting and abstract Lakota art forms. Some works are executed strictly in paint, weaving conceptual influences and aesthetics from each respective history. Others accomplish the same intermingling of artistic lineages through stories embedded in materials. Mixed-media pieces combine traditional painting mediums— acrylic, oil, and canvas, with beadwork, porcupine quillwork and other materials common to Lakota artistic traditions.
I strive to create honest, inclusive compositions that acknowledge all parts of my history, Native and non-Native, urban, academic and cultural education systems, and at times-conflicting world views. This platform allows me to start from center, deepening my own understanding of the complexities of self and culture, correlations between personal and national history, and indigenous and mainstream art histories.
By highlighting the strength and legacy of indigenous arts within a conceptual painting practice the audience is invited to consider perceived parallel histories as truly intertwined. The complexity of visual and conceptual references encourage conversations that challenge the lack of representation of Native arts and people in the mainstream while highlighting the truth and necessity of equality and intersectionality.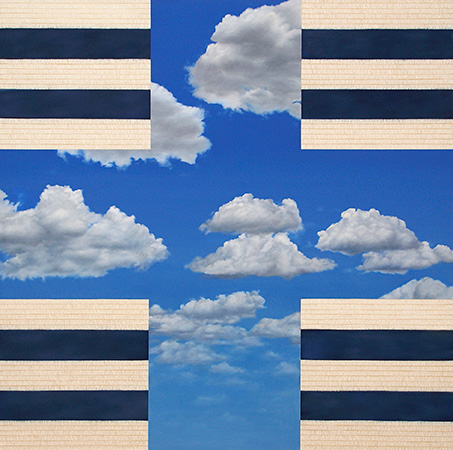 Seeing. (2011). Oil on Canvas. 60 x 60 in.